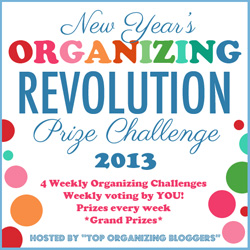 On December the 27th Laura from I'm an Organizing Junkie (my greatest inspiration and the reason I fell in LOVE with organizing!) announced the New Year's Organizing Revolution Challenge hosted by the top organizing bloggers.  Since I had already planned to reorganize my entire house I was sooooo excited to hear about this!  I knew I had to jump right in with the challenge!
This week it's all about offices
Here's the thing, I've talked about organizing your paper before, but sometimes life happens, holidays invade our homes, and things get put to the wayside.  Because of the systems I already had in place for my paper, it didn't take too long to get it back on track.
Everything else, however, was a different story!
The Before and Afters:
Today I'm sharing with you my mess before I organized, and then after I organized it.  Stay tuned, though, because I will be explaining how I organized it by breaking it down into bite sized pieces for you to easily digest
Here goes…
Join me on Wednesday to get the breakdown on:
What about you, how do you organize your office?